So I've been on weight watchers for 3.5 months now (they automatically charged me for the month after my three month period I had already paid for.) It's been interesting, but I'm not convinced that the weight watchers is what is helping me lose weight so I'm likely going to quit this month.
Don't get me wrong, I think it's a great program for a lot of people. It's good to learn a little about the points and how many points a lot of the things you eat are, but I found it frustrating to try to track my points continually. It was mostly an added hastle and something I really didn't feel like I needed to be spending a lot of time on. So I mentally tracked my general points. Since Thanksgiving, I've lost 27 pounds. I feel really good (minus the stretch marks and extra skin around my midsection.) I mostly attribute this to meal planning, eating out FAR less, and using my new favorite website,
Skinny Taste
.
If you are around me at all or are my friend on facebook, I'm sure you've seen my photos or heard me rave about this website. The recipes are delicious (they've gotten me to start cooking, unheard of really), you can add recipes to a recipe box (powered by ziplist which means there are a BUNCH of recipe website you can add recipes to the same recipe box), you can add recipes to a "list" (i.e. weekly meal planning), and this list generates a grocery list for you! Honestly, as a mother of two little ones, this is an amazing features and saves me so much time. The recipes are weight watchers friendly, or "light." We've also been toying with the idea of utilizing PeaPod more regularly. We tried it once and honestly, I told Justin I didn't really understand why more people don't use it. They have two pick ups near us, which means you pay for the groceries (prices are generally close to prices at the grocery store, some higher, some lower, some the same), they shop for you and if you pick up, they load all of the groceries into your car. SUPER easy! Delivery is only $7 if you spend over $100 (which let's be honest, is pretty easy to do with grocery shopping.)
I thought I'd do a little blog review of some of our favorite things we've made while using Skinny Taste.
Crock Pot Kalua Pork with mango avocado chutney and cilantro lime rice
: We made this last weekend. It was so so good. The pork was super easy (but takes a long time to cook). My main complaint would be some of the pork was a bit dry mainly because there isn't much in the crock pot with it. We also would probably get a large pork shoulder next time since it shrunk down a lot in the crock pot. The chutney and the rice was SO delicious (both recipes from Skinny Taste as well.)
Baked Pasta with Chicken Sausage and Spinach:
I just made this last week and Justin was a big fan. The pasta recipes are super easy and my go to's if we don't have a meal planned and I need something quick with stuff we already have in the fridge/pantry. I was able to prep this one entirely while both kids napped and then just stick it in the oven at the right time. Perfect.
Avocado Egg Salad
: Extremely easy and delicious!! I love avocados and hard boiled eggs so I was already sold. Justin doesn't love egg salad and he liked this a lot. Kayla doesn't like much at all and she ate this up!
Rosemary Garlic Parmesan Biscuits
: We made these with the chicken dijon and lime below. They are very easy and every good!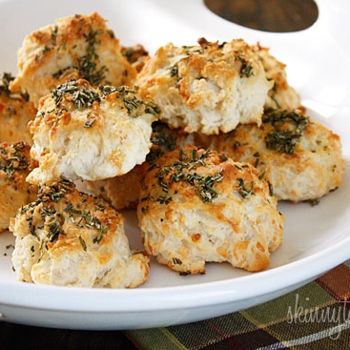 BLT Macaroni Salad
: I don't even like tomatoes and I ate this up...including the tomatoes! Really easy and refreshing and delicious.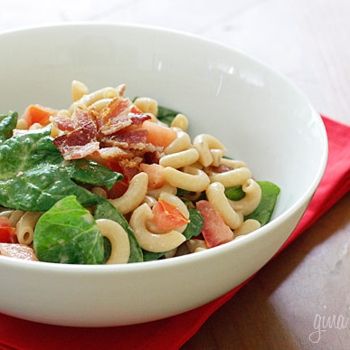 Chicken Rollatini with Spinach A La Parmigiana:
We've made these multiple times. Kayla eats these, so they are an easy go to when we want something good that we can hope Kayla will eat too.
Baked Chicken with Dijon and Lime
: We've made these twice, once with chicken thighs as it calls for and one with breast cut up. The breast were a little dry, but we think we cooked them too long. Very easy and delicious. Pair with veggies or whatever sides you like!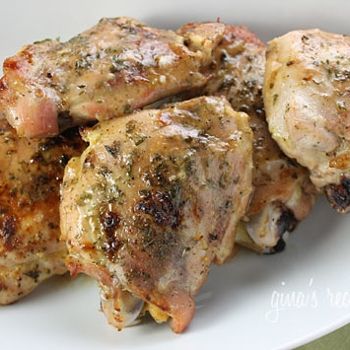 Baked Lump Crab Cakes with Red Pepper Chipotle Lime Sauce
: These were DELICIOUS. One of Justin's favorites. Crab is a bit expensive but we will probably make these every once in while for ourselves. We made this after the kids bedtime one day since it's unlikely Kayla will eat them, but maybe next time we'll try.
Cauliflower Fritters
: Cauliflower is my favorite veggie and these are pretty darn good! Kayla semi enjoyed them as well. :)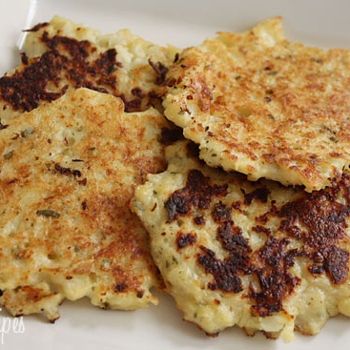 We've made quite a few more things, particularly many of the pasta dishes, which are all delicious. I recommend this website highly. And I think I'm going to try to make
these
for our St. Patty's Day party with friends this weekend...
**
All photos are from skinnytaste.com as well!